This patient was accustomed to using Botox injections to get rid of the crow's feet around his eyes. But he recently heard of a new cosmetic filler called Belotero and decided to give it a try. This would be a transition from his normal use of neurotoxins (what makes Botox and Dysport) to the use of hyaluronic acid based treatment for fine lines and wrinkles. And it would continue to circumvent the use of lasers, which he did not want.
Belotero Versus Restylane and Juvederm
Belotero is the most recent hyaluronic acid to get the FDA nod, with its approval in 2011. Restylane, the oldest HA filler, and Juvederm are different from Belotero and from each other—they are both great for meeting the unique needs of different patients. For the treatment of crow's feet, Belotero has a few advantages over the former two.
First of all, it does not produce Tyndall effect when injected close to the surface of the skin, while Juvederm and Restylane do. Tyndall effect causes a bruise-like blue hue to appear on the skin. Due to the fact that Belotero can aesthetically withstand more shallow injections, any swelling, bruising, or redness is also lessened. Furthermore, Belotero has the lightest composition of the hyaluronic acid fillers, yet retains a high level of elasticity. This makes for a more even and seamless result at the injection site, limiting the risk of bumps.
The smooth appearance and quick recovery of Belotero injections make it an ideal treatment for superficial wrinkles and fine lines. A recipient can expect results to last anywhere from 6 to 12 months.
Belotero at FineTouch Dermatology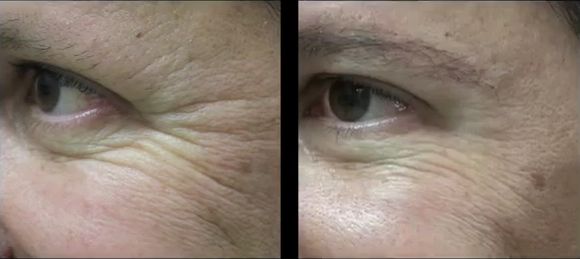 Two weeks after his Belotero injections, the patient is
pleased with the youthful looking skin around his eyes. His crow's feet are almost entirely gone, with no bumpy or uneven areas. The area is completely healed. Additionally, the results of this treatment will last twice as long as Botox injections. He says he would "without a doubt" recommend Belotero to others.
You can use Belotero to treat your crow's feet or other superficial facial creases. Fill out our free online consultation form today to learn more.