When it comes to perfecting and beautifying the skin, nothing gets the job done better than a Fraxel Dual laser treatment.  This treatment can help you conquer brown spots, wrinkles, and other signs of aging on your face. Why keep searching for the fountain of youth when you can schedule a free consultation with Dr. Umar?  If you are interested in looking and feeling younger than you have in years, this is the treatment for you. Not only is it minimally invasive, but you'll be able to return to your everyday activities in no time. Even pain is minimal so therefore you will not have to worry about the traumas of stress associated with more vigorous treatment options.  Fraxel Dual Laser treatment is for anyone who takes looking great seriously.
Not only does it smooth the skin, it rejuvenates the appearance.  Do you want to glow with beauty? Are you tired of your face holding a worn, tired, angry, look even when you're happy?  Inquire today to learn more about fraxel dual laser!  Dr. Umar at FineTouch Dermatology uses the Fraxel Dual Laser and Spectra Laser for treatment of wrinkles and Age Spots.
This patient visited Dr. Umar of her concerns on her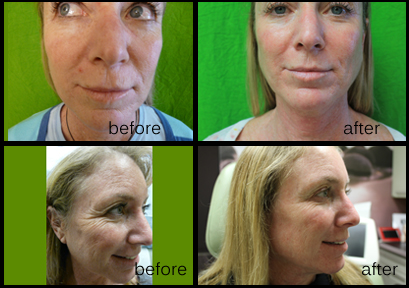 face and neck Sun and age spots, wrinkles, poor skin texture, and loss of glow.
Just 4 weeks later after her procedure, the patient experiences major improvements and is satisfied with her results.  She feels she has a refreshed look, her face looks smoother, skin is more even, and she feels her skin now looks more youthful.