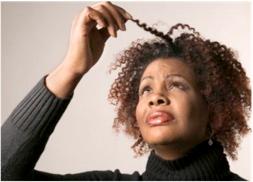 Traction alopecia (scarring alopecia is another name for it) is a disorder that causes hair loss, mostly in black women. Although it affects other ethnicities, the frequency among those of African ancestry is due to their historical and cultural hair styling practices.
In places where beauty and cosmetics reign, like Los Angeles, traction alopecia can develop a self-afflicted cyclical nature and become very difficult to deal with.
UNDERSTANDING TRACTION ALOPECIA
This condition appears as a slowly progressing thinning of the hair around the peripheral scalp edges, meaning the front and back hairlines, and around the ears. It is caused by a frequent or consistent pulling force on the hair, often the result of certain hairstyles. In Los Angeles, traction alopecia can even be seen on celebrities because of their constant use of weaves and extensions.
Very much like traction alopecia, there is another disorder known as CCCA (central cicatricial centrifugal alopecia). This condition produces the same resulting hair loss, with additional balding at the scalp center. In addition to forceful pulling of the hair, using abrasive chemicals and appliances—like bleaches, dyes, relaxers, and flat irons—weakens the follicles' keratin structure. This eventually deteriorates the overall tensile strength of the hair and causes it to break off and fall out.
HAIRSTYLES THAT CAUSE TRACTION ALOPECIA
In Los Angeles, traction alopecia-causing hairstyles can be seen everywhere, on all types of people. However, these hairstyles are most commonly associated with African American women and men. The current coiffures that lead to scarring alopecia along the hairline include:
-Braids
-Cornrows
-Weaves
-Extensions
-Ponytails
-Barrettes
GETTING RID OF TRACTION ALOPECIA
The most obvious and simple cure for this disorder is to stop it from happening in the first place. Prevent it by wearing hair loose. But for a woman (or man) living in Los Angeles, traction alopecia is difficult to prevent because of certain cosmetic standards. And once the condition sets in—and hair begins to fall out—there develops a greater need to conceal it with more extensions, weaves, etc. At this point, the consequences are irreversible. Possible solutions are:
-Trade off wearing a wig with your daily hairstyle. This will slow down the trajectory of traction alopecia and also mask the condition if hair loss is severe.
-Use Rogaine, especially when you first notice the hairline starting to thin. Rogaine (minoxidil) is an FDA-approved over-the-counter drug proven at preventing hair loss and sometimes stimulating growth.
-Los Angeles traction alopecia sufferers may only find solace in FUE hair transplantation. This permanent surgical solution has the capability to restore the hair to its natural state with minimal invasiveness, little down time, nominal scarring, and maximum hairline design.
Click here to listen to Dr. Umar discuss traction alopecia and other hair loss concerns on the Tom Joyner Radio Show.